Let's end the day with some terrific news. I have been waiting all day to post this.

Good News - The Young Man has been found and re-united with his family!!!!!
I have been following this case for a few months and was hoping and praying for today's outcome.

Let's all remember he is a young person and needs the support of everyone that can help him get back on track.

Pranesh seems like a very talent young man and just got caught up in the feeling of being a failure.

Hey Pranesh, you are NOT a failure, and have a lot to offer. Your family is very happy to hear you are OK and back home with the people that missed you and love you so much!!!!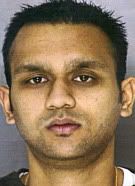 Monday, June 25, 2007
By Gabrielle Banks, Pittsburgh Post-Gazette

A University of Pittsburgh student missing since April was reunited with family members over the weekend after a ranger discovered him Thursday living among homeless squatters in Glacier National Park in Montana.

A private detective from Pittsburgh tracked him down Saturday riding in a motor vehicle several miles outside the park.

"He was fine when I found him," said private investigator Chris Finley.

Pranesh Patel, 23, of Sicklerville, N.J., was last seen by his roommate April 24, during finals week. He failed to show up for an engineering exam April 27, and his younger brother filed a missing persons report May 2.

But police got no solid leads until a park ranger reported seeing him in a group of homeless people at the Montana park. The ranger ran his name through the National Crime Information Center database and found a match for a missing person from Pittsburgh.

The ranger called Pittsburgh police and informed the young man's family that Mr. Patel looked to be in good health. But the park ranger did not hold him in custody.

John Vroom, a Pitt student who shared an apartment with Mr. Patel and a third roommate on Chesterfield Avenue in Oakland, was reportedly the last person to see him April 24, though Mr. Patel's family heard from him that day.

Mr. Vroom reported that his missing roommate was failing most of his classes and was upset because a final project he was building had been stolen. He said the fifth-year electrical engineering student was afraid to tell his family that he might not graduate.

His brother, Tarak Patel, a West Virginia University student, reported him missing to Pitt police on May 2. The university turned over the case to city police, who issued a news release about his disappearance. About a week later, his family hired private investigator Finley, who is based in the North Hills, to expedite the search.

READ THE REST HERE

**Sometimes we all get the news we cherish**