MADELEINE: POLICE'S 2AM RAID ON PENSIONER.
02.06.07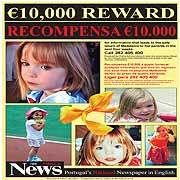 MADELEINE MCCANN

Police hunting for Madeleine McCann launched a 2am raid on the South London home of an innocent woman in her 70s.

Officers acting on behalf of Portuguese police have targeted at least two properties in South London with similar addresses - both have the same house number and road name and are less than five miles apart.

News of the searches came after Portugal's Policia Judiciaria said they were following leads from psychics and clairvoyants.

It is understood they are clutching to the hope that Madeleine's abductor might pose as someone with psychic powers so that he could free her, tell police of a vision identifying where she could be found - and avoid detection.

There was no sign at either address of Madeleine, who was taken from the holiday apartment of her parents Gerry and Kate in the Algarve on May 3.

British police would not confirm if some of these leads were being passed on and it is not known if the London searches were due to such a tip.

Within the space of 12 hours, officers raided a Thirties former council house in Merton Road, Wandsworth, and a home in Merton Road, South Norwood, last Wednesday.

READ THE REST HERE

-Following the leads from Psychics and Clairvoyants? No WONDER the Police have the wrong address and what makes anyone think that address is any better than 1600 Pennsylvania Avenue?

I feel bad for Madeleine. A bunch of IDIOTS are running this investigation. What's next? Witch Doctors to treat serious medical conditions? If Madeleine is alive somewhere, she is very frightened and there are a group of morons running the investigation into her recovery. THIS IS INFURIATING! A little girl is relying on Authorities with no common sense and this diminishes the chances she will be recovered.

Well, that's strike one against the psychics. When will the Police learn that these psychics offer nothing?

Also- when did the Police adopt the theory that a psychic would abduct someone only to free them in the hopes of becoming a HERO?

Let's stick to what we know until there is another indication that this is not a pedophile or someone looking for a child of their own.

People abducting children are generally pedophiles. In the second instance, we have seen women abduct children because they are unable to have children themselves and in some instances they have told family members and their husbands they are pregnant. Madeleine is not a baby, so that rules out the second theory. Which brings us all back to the most horrible of the theories.

Let's stick to the most plausible theories FIRST.

With Police and Investigators like these, I worry Madeleine might never be found. The Police are banging on the doors late at night of people with no connection to Madeleine or Portugal. THIS IS THE PROVERBIAL NEEDLE IN A HAY STACK MENTALITY.

Most people want to help the Police recover a missing person, but I also think most people would be a little ticked off to find out that the info leading to your front door was developed based on a psychic. A legitimate witness or information gathered and erroneously leading to your door would be acceptable in most circumstances, but having psychics point the finger at you would make most people a bit upset.