PLEASE CLICK THIS LINK TO BE DIRECTED TO THE MADELEINE MCCANN BLOGSPOT FOR UPDATES
MYSTERY DNA FOUND IN MADELEINE'S BEDROOM.
By Caroline Gammell, PA Chief Reporter in Madrid
Published: 02 June 2007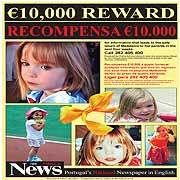 MADELEINE MCCANN

DNA from a mystery "sixth" person was found in the bedroom where Madeleine McCann was abducted, it was claimed today.

The Portuguese police, Policia Judiciara (PJ), have handed the sample to the national forensic laboratories, the Instituto Nacional de Medicina Legal, according to local newspaper 24 Horas.

It does not match the DNA of Mr and Mrs McCann or their three children, the paper said.

Neither does the DNA match that of the only named suspect in the case, property developer Robert Murat, the paper added.

It quoted a source from the laboratory who said: "There is a new suspect, there is DNA which does not correspond to the family.

"It is an important step in the investigation but the truth is that the DNA collected does not have a name.

"In other words we cannot make any connection between the material collected and the suspects which we already have."

The newspaper said the DNA would be compared to all the evidence gathered by the PJ to see if a match could be found.

But, the source continued: "This does not mean that Robert Murat could not be incriminated but there is a person who was in the room who as yet it is not possible to identify.

"There are a lot of things already concluded but there are a lot of things still to do."