POLICE PROBE MADELEINE MYSTERY CALL
By Mirror.co.uk 07/06/2007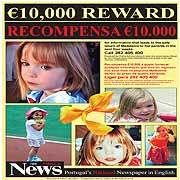 MADELEINE MCCANN

POLICE are trying to trace a mystery caller who claimed to know the whereabouts of missing Madeleine McCann.

The man rang Spanish police yesterday saying he wanted to speak directly to the four-year-old's parents.

The call was traced to an unregistered pay-as-you-go phone from an unidentified country and the man did not reveal his identity or nationality.

But the information was apparently considered important enough to alert Kate and Gerry McCann, who put their European search for their daughter on hold in case they needed to act.

The couple were informed of the potential development while in Germany, where they were appealing for information about Madeleine.

And at around 3pm yesterday, the couple were advised that the caller might try to contact them, so they delayed their scheduled trip to Amsterdam.

But all efforts to re-establish contact with the man failed and the couple decided to go to Holland, where they spent today appealing for help.

A British police source said: "The importance of this line of inquiry is still being assessed and attempts to re-establish contact are continuing."

It is 35 days since Madeleine was abducted from her bed in the Algarve resort of Praia da Luz.