**UPDATE** 4:10PM EST

UK GUARDIAN REPORTS ONE MAN ARRESTED - ONE WOMAN DETAINED

· Italian man arrested in Spain, El Pais writes
· Woman also detained, local journalist says
· Police investigate link to suspected kidnapping

An Italian man has been arrested in Spain in connection with the suspected kidnapping of Madeleine McCann, it was reported today.

The Italian citizen was detained near the port of Algeciras, southern Spain, over suspected links to the disappearance of the four-year-old, according to the website of the newspaper El Pais.

The man had tried to extort money from Madeleine's parents, Kate and Gerry McCann, in return for information about her disappearance, El Pais reported.

THE INDEPENDENT - UPDATE - POSSIBLE EXTORTION?

TELEGRAPH - UPDATE - TWO PEOPLE ARRESTED

EXPRESS - UPDATE - TWO PEOPLE SEIZED


**UPDATE II** 4:03PM EST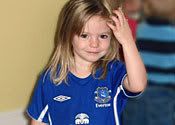 FIND MADELIENE

ITALIAN MAN HELD IN HUNT FOR MADELEINE
Last updated at 20:55pm on 28th June 2007 (UK TIME-ZONE)

An Italian child abuser was being questioned this evening in connection with missing Madeleine McCann.

Danilo Chemello was arrested in southern Spain after specialist anti-kidnap police stormed a house at 5am.

But rather than the 61-year-old being a suspect in four-year-old Madeleine's abduction, it appeared he could be a cruel conman who had tried to extort money from her family. He is wanted in France for child abuse and was picked up on an international arrest warrant, but police subsequently found evidence in his house "of relevance" to the Madeleine case.

Kate and Gerry McCann, whose hopes have been repeatedly raised and dashed during their tireless campaign to find the little girl, were being kept in close touch with the fast-moving developments last night.

Madeleine's great uncle Brian Kennedy said: "We are trying not to get our hopes up too much because they so frequently get dashed."

The operation began at dawn yesterday when officers from the Spanish police's specialist Antisecuestros de la Unidad de Delitos Especializados y Violentos anti-kidnapping unit raided a housing estate property in Sotogrande, an exclusive golfing enclave near Gibraltar that is popular with Prince Andrew.

The Italian is a wanted man in France where he has previously served a three-year sentence for child cruelty. He fled to Spain after being accused over another attack.

READ THE REST HERE

**ALSO THE MADELEINE MCCANN BLOGSPOT HAS AN INTERESTING ITEM THAT TIES A PEDOPHILE TO THE CASE. PLEASE CLICK THAT LINK TO READ MORE**

- - - - - - - - - - - - - - - - - -

MAN ARRESTED FOR MADELEINE KIDNAPPING
Updated: 18:18, Thursday June 28, 2007

There are reports that an Italian man has been arrested in Spain for the suspected kidnapping of Madeleine McCann.
The website of the Spanish El Pais newspaper says he was picked up in the port city of Algeciras in the south of the country near Gibraltar in the early hours of this morning.

Madeleine disappeared from her family's holiday apartment in the seaside resort of Praia da Luz in Portugal on May 3.

Portuguese police are looking into the claims of an arrest, a spokesman said.

Chief Inspector Olegario Sousa, from the Policia Judiciara (PJ), said he had heard the report from Spanish newspaper El Pais and was trying to verify it.

"I have heard about this and I am trying to check this information with my director," he said.

Journalist Bill Bond, speaking from Madrid, told Sky News Spanish police were denying that anyone had been arrested.

He said: "They say at the moment they have not arrested anybody and deny the El Pais story."

However he said the article was well sourced and had a lot of detail and the correspondent was a crime specialist.

Madeleine's parents, Gerry and Kate McCann, have remained in Portugal as they continue the search for their daughter.

The couple said they would stay there until they are ready to return to Britain with the youngster.

They have been living in an apartment close to the holiday resort flat where Madeleine was snatched from her bed.

Brian Kennedy, Madeleine's Uncle, told Sky news: "Our hopes have been raised several times by reported sightings.

"We're trying not to get our hopes up too much because they so frequently get dashed.

"We've been cautioned to be careful not to read too much into reports but it shows people haven't forgotten about Madeleine even if the reports come to nothing.

"We don't want people to become tired of the story and they don't seem to be - everybody's been very kind and supportive."

There have been a host of reports of possible sightings of Madeleine, most recently in Malta.

The police there said they have received eight fresh reports in the past few days from people claiming to have seen the four-year-old, from Rothley, Leicestershire.

The reports follow a wave of possible sightings of girls matching Madeleine's description across the island.