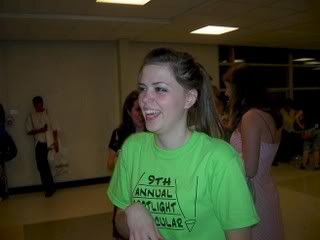 KELSEY SMITH

FROM MISSEY AND GREG
Words can not express our heartfelt thanks for all the love and caring assistance in our search for Kelsey. Your dedication and tireless efforts are deeply appreciated. Although the outcome is not what we desired, we know that Kelsey is Home.

Please continue to remember our family in your prayers. We love you all.

God is our refuge and strength,
an ever-present help in trouble.
Psalm 46:1

Candlelight Vigil for Kelsey
Shawnee Mission West High School
Marching Band Practice Field
June 7, 8:30 p.m.



CANDLE FOR KELSEY




GOD BLESS KELSEY AND HER FAMILY

KELSEY SMITH FUND
If you would like to make a donation to the Kelsey Smith Fund, please send to our friends at THE FIRST STATE BANK:

The Kelsey Smith Fund
First State Bank
650 Kansas Avenue
P.O. Box 5188
Kansas City, KS, 66119

Suspect Arrested in Kidnap, Murder of Kansas Teen Kelsey Smith.
Thursday, June 07, 2007
FOX NEWS

Authorities expected to charge a man on Thursday in connection with the kidnapping and murder of recent high school graduate Kelsey Smith, who disappeared from a Target parking lot in Overland Park, Kan., on Saturday.

Police arrested Edwin Hall, 26, on Wednesday night after he appeared on a security camera video shortly before Smith walked out of Target and was forced into a car. Hall was expected to be charged with premeditated first-degree murder and aggravated kidnapping. Overland Park Police Chief John Douglass said Hall appeared to be the same person shown in the video leaving the Target soon after Smith. He was wearing a white T-shirt, sneakers, shorts and a goatee. Hall was arrested after being interviewed by police, Douglass said.

Johnson County, Kan., prosecutor Phill Kline said charges would be filed Thursday morning.

"This community has lost a vibrant and promising life and a family has suffered unimaginable tragedy," he said.

Police said Hall's vehicle matched the description of a dark mid-1970s Chevrolet pickup that was seen entering the Target parking lot shortly after Smith's car.

READ THE REST HERE

ABC NEWS - Man Arrested in Kansas Teenager's Death.

CNN NEWS - Police arrest suspect in teen's abduction, slaying.
-SNIPPED-
Authorities will ask for Hall to be held on a $5 million bond, Kline said.

Hall, from Olathe, Kansas, would face 25 years to life in prison if convicted of the murder charge and at least 12 years on the aggravated kidnapping charge, Kline said at a news conference late Wednesday.

MSNBC NEWS - Man arrested in abduction, death of teen.

CBS NEWS - Arrest Made In Kansas Kidnap-Slay Case.