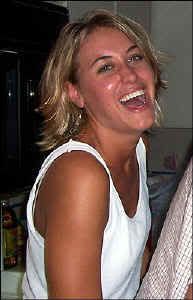 JENNIFER KESSE


My Friends, over the last two years I have become friends with so many wonderful people. I have had the opportunity to meet some of God's Finest. People who put aside their own personal lives in the hopes of helping others.

I have also had the opportunity to meet the families of the VICTIMS. I must tell you that there is nothing more heart-wrenching than seeing the pain on their faces as they encounter the unimaginable. The LOSS of a Family Member and the uncertainty that follows.

I have had the pleasure of becoming an ally of one such Family. That Family is the Kesse Family. I have a special place in my heart for both Jennifer and Natalee and so many other CRIME VICTIMS.

I have been very fortunate to assist Jennifer's Uncle Bill Gilmour. As I respect the Holloway and Twitty Families, I hold the Kesse Family in the same high regard. They are fine people and deserve the answers to the questions they seek.

On January 24th 2006, Jennifer was abducted from her Condo in Orlando Florida.

On January 24th 2007 Bill sent me a message of hope on the one year anniversary of Jennifer's disappearance and he has given me permission to share that message with you. I share this message with you in the hopes that you may understand the Pain, Hope and Faith the Families have deal with on a daily basis and the fact that life stops when a Family Member goes missing.

Bill's Message-

Heavenly Father, we love and miss Jennifer every minute of every day, we gather here before you, our hearts aching, in prayer, asking You to continue to watch over and protect her, while pleading to You to touch the hearts of the individuals involved in her disappearance so that they will do the right thing and allow her to return safely to her family and friends.

We seek comfort in Your Word. The Apostle Paul, in the Book of Romans, tells us that God works in "all things" – not just isolated incidents – for our good. This does not mean that everything that happens to us is good. Evil is prevalent in our lost world, but God will work in every situation to produce positive outcomes.

We ask questions and seek answers to make sense of why bad things continue to happen to good people. Help us understand and put in our hearts the desire to follow the message Jesus gave us…to truly love God and our neighbors for if we do we will naturally keep your commandments, and our actions will be focused on caring about one another.

Help us to understand that when You comfort us, our troubles don't necessarily go away. Comfort can come from receiving strength, encouragement and hope to deal with our troubles.
LORD, help us to know that our joy, prayers and thankfulness should not fluctuate with our circumstances or feelings. Having a persistent and patient prayerful attitude under ALL circumstances acknowledges your presence within us and our dependence on you.
We ask You to grant each of us Your peace and grace, in Jesus' name, Amen.