SUSPECT IN KELSEY SMITH'S DEATH CHARGED WITH MURDER AND KIDNAPPING
Thursday, June 07, 2007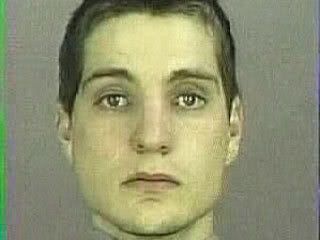 FACE OF HORROR - EDWIN R HALL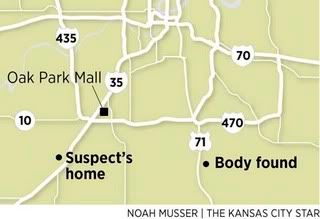 MAP OF LOCATIONS INVOLVED

A 26-year-old man seen on a video surveillance tape was charged Thursday with premeditated first-degree murder and aggravated kidnapping in connection to the death of recent high school graduate Kelsey Smith, who disappeared from a Target parking lot in Overland Park, Kan.

Police arrested Edwin Hall, 26, on Wednesday night after he appeared on a security camera video shortly before Smith, 18, walked out of Target and was forced into a car last Saturday.

Hall, looking tired and downcast, appeared Thursday in Johnson County Court via video feed from a jail in nearby Gardner for his arraignment. He waived reading of the charges until he can hire his own attorney. His next appearance was scheduled for June 14.

Hall is being held at the New Century Detention Center in Gardner. Bond was set at $5 million.

READ THE REST HERE

MISSOURI FAMILY HOLDING OUT HOPE THEIR MISSING DAUGHTER IS ALIVE

As one family mourns the loss of 18-year-old Kelsey Smith, whose body was found Wednesday after she disappeared four days earlier, another family is still wondering where their daughter is.

KARA KOPETSKY 17, disappeared more than a month ago from her Belton, Mo., home, which is about six miles from where Smith's body was found. Smith was abducted from Overland Park, Ill. Edwin R. Hall, 26, was arrested and charged Thursday with her kidnapping and murder.

"We're convinced someone knows something. [Hall] was from Olathe, which is as close as Overland Park. You know, it's 20 minute [away]," Kara's mother, Rhonda Beckford, told FOX News on Thursday, leaving open the possibility Hall could be involved in her daughter's disappearance.

Kara was last seen on the morning of May 2 at her high school, Beckford said. Kara had called her mother that morning to ask her to bring her history textbook to school and to wash her work uniform. But she never arrived at work that afternoon.



KARA KOPETSKY AND PERSON OF INTEREST

READ THE REST HERE