Madeleine Police Target Three Suspects
Updated: 15:53, Thursday May 10, 2007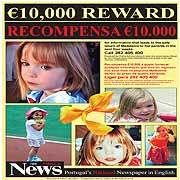 MADELEINE MCCANN

There appears to have been a significant development in the hunt for missing Madeleine McCann, according to Sky News crime correspondent Martin Brunt. He says Portuguese police are focusing on two men and a woman seen with a girl matching the three-year-old's description.

Officers have called a news conference for later today.

This follows reports of Madeleine's parents being driven away at speed from their apartment.

Brunt, who is in Portugal, said: "Things are happening, they could be important, there could be a big development.

"I'm also being told that a town or village has been sealed off near Seville in southern Spain. It is not a long journey to get from the Algarve across the border."

Officers have reportedly examined CCTV footage showing a girl fitting Madeleine's description with a woman and two men.

The footage was taken at a service station a few miles from the village of Praia da Luz a few days ago, on the road towards Spain.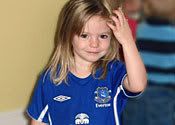 READ THE REST HERE

There are new telephone numbers to call for people with any information:

If you are in the UK, call Crimestoppers 0800 555 111.

If you are in Portugal, call the Judicial Police +351 282 405 400 or Crimestoppers +44 1883 731 336.