MADELEINE: BRITISH MAN IS SUSPECT
Vanessa Allen & Martin Fricker In Praia Da Luz 15/05/2007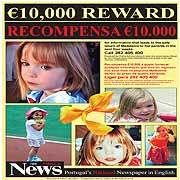 MADELEINE MCCANN



ROBERT MURAT

A British father is being treated as a formal suspect by police in Portugal investigating the disappearance of four-year-old Madeleine McCann.

Robert Murat, who is in his 30s with a four-year-old daughter, lives with his widowed mother Jenny, 71 in Praia da Luz.

Their villa is situated 150 yards from the apartment from which Madeleine vanished 12 days ago.

Murat was escorted from the villa late last night by police, and was later questioned by detectives while forensic experts searched the house.

While considered a suspect, under Portuguese law Murat can remain at liberty.

He was one of three people questioned by detectives in the town of Portimao. All three were released overnight.

Murat, fluent in Portuguese, has been helping local police and Madeleine's distraught parents Gerry and Kate cope with the language barrier by translating for them.

READ THE REST HERE

Tuesday May 15, 2007
GUARDIAN UNLIMITED
A list of the key events in the disappearance of Madeleine McCann on Thursday, May 3 at the Ocean Club in Praia Da Luz.

May 3
- Kate and Gerry McCann leave their daughter Madeleine and her two-year-old twin brother and sister in bed in their apartment while they have dinner at a nearby restaurant.
- Mrs McCann checks on them at 10pm and finds the bedroom window open and Madeleine gone. Police are alerted immediately.

May 4
- Border police, the Spanish authorities and airports are notified. Volunteer teams continue to comb the village, resort and beach for clues.

May 5
- Detectives reveal they believe she was abducted

May 7
- Mrs McCann makes a personal plea to anyone holding her daughter, saying: "Please, please do not hurt her. Please do not scare her."

May 9
- Police examine a CCTV tape from a service station a few miles from Praia Da Luz, showing a woman with a girl fitting Madeleine's description.

May 10
- Police say in a press conference that the search for Madeleine is being wound down. They issue an image of a pair of pyjamas identical to those that Madeleine had been wearing when she disappeared.

May 11
- A businessman, Stephen Winyard, offers a reward of £1m for information leading to the return of Madeleine.
- David Beckham makes a television appeal for information.

May 12
- Madeleine's fourth birthday.
- Entrepreneurs including Sir Richard Branson bring the total amount of money now being offered in the search to more than £2.5m.

May 14
- Mr McCann says that "until there is concrete evidence to the contrary, we believe Madeleine is safe and is being looked after".
- The home of a British man, Robert Murat, which is just 160 yards from where Madeleine was snatched, is searched by police. Police confirm he is a suspect.