Madeleine police issue plea for holiday snaps.
James Sturcke and agencies
Monday May 21, 2007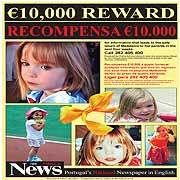 MADELEINE MCCANN

British police today asked holidaymakers who had visited the Portuguese resort where four-year-old Madeleine McCann went missing to send in their photographs in an attempt to identify her abductor.

Officers said they were interested in any images taken at the Ocean Club resort or surrounding area in the Algarve in the two weeks before the child was taken.

It is understood that the pictures will be run through a cutting-edge facial recognition programme and cross-referenced against a database of images of UK paedophiles, other criminals and potential suspects. Police said they wanted photographs which included strangers in the background, and not family shots or panoramic photographs of empty scenery.

A special website - www.madeleine.ceopupload.com - was launched today to receive the anticipated deluge of digital photographs.

Jim Gamble, the chief executive of the Child Exploitation and Online Protection Centre (Ceop), said the face recognition system could cope with 1,000 new images being submitted every hour. Any "meaningful information" would be passed on to Portuguese authorities.

"We are looking for anyone who was at the Ocean Club Resort or surrounding area in the two weeks leading up to Madeleine disappearance on Thursday May 3 who have photographs that might help our work.

"We don't want scenery shots, or pictures that just show your family, but look at your prints and see if there are, for instance, people in the background of the picture that at first you may not have noticed."

He also called for people who thought they had witnessed someone acting suspiciously or who believed that they knew where Madeleine might be being held, to immediately contact the centre.

"We do not know the reason why she was taken but the Portuguese authorities have searched extensively around Praia da Luz and she has not been found. It is possible she is being hidden or concealed in some way and if you know where then by now you may have realised it is in everybody's interest that she is returned to her family," he added.

Detective Chief Superintendent Anne Harrison, of the National Policing Improvement Agency, appealed for anyone who took part in the initial searches for Madeleine before the Portuguese authorities arrived at the scene to get in touch.

The appeal was launched by the British law enforcement agencies assisting the Portuguese authorities - Leicestershire Constabulary, the Association of Chief Police Officers, Ceop and the National Policing Improvement Agency.

People who did not have digital photos could take their images to any branch of Jessops where they could be scanned, Ceop added.