£1m To Find Missing Madeleine
Updated: 02:43, Friday May 11, 2007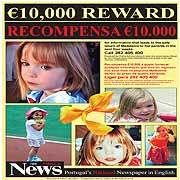 MADELEINE MCCANN

A reward of £1m has reportedly been offered for information leading to the return of missing Madeleine McCann. Businessman Stephen Winyard, owner of a Scottish health spa called Stobo Castle, said he was "frustrated" there had been no developments in the case.

Portuguese police said on Thursday they were winding down their search for the three-year-old.

There has been no arrests, no one has been detained and much of the surrounding countryside has been searched.

It is thought Madeleine, of Rothley, Leicestershire, was abducted while she slept in her hotel room last Thursday in the Portuguese resort of Praia da Luz.

Mr Winyard, a 57-year-old father-of-three who lives in Monaco, told The Times newspaper: "When I saw their faces, I felt frustrated that no one else had yet come forward offering a substantial reward, and so felt compelled to do so myself."

The offer has been put to the McCann family in Portugal.

It is not known whether the country's laws allow the cash to be paid.

A relative of Madeleine has already offered £100,000.

READ THE REST HERE

There are new telephone numbers to call for people with any information:

If you are in the UK, call Crimestoppers 0800 555 111.

If you are in Portugal, call the Judicial Police +351 282 405 400 or Crimestoppers +44 1883 731 336.