MADDY SUSPECT REFUSES LIE TEST
By Matt Drake
Sunday May 20,2007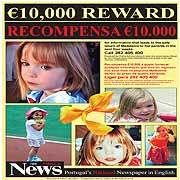 MADELEINE MCCANN

THE prime suspect in the hunt for missing Madeleine McCann last night refused an offer to take a lie detector test.

Robert Murat, 33, insists he did not snatch the four year-old.

But he has now hired a team of lawyers, fearing he could be arrested.

Police in the Algarve confirmed Murat is their chief suspect but under Portugese law they need further evidence before they can arrest him, let alone press charges.

It is believed they are waiting for the results of DNA samples. Yesterday it emerged that the jobless Murat, a former estate agent, had met Russian Sergey Malinka, the other man at the centre of the inquiry, the day before Madeleine was snatched.

Murat, whose claims of innocence are dogged by alleged inconsistencies, has refused to reveal what the encounter was about.

Last night detectives were examining fresh evidence that Malinka, 22, a Moscow-born IT expert, wiped clean hundreds of files on his computer hard drive minutes before police swooped on his apartment in Praia da Luz. He denies any involvement in her disappearance.

Both men have been questioned about a series of telephone calls between them in the hours immediately after Madeleine was taken from the up-market Mark Warner Ocean Club holiday resort 17 days ago. She was snatched while she slept next to her 18-month-old twin brother and sister, Sean and Amelie, while her parents, heart specialist Gerry McCann and his GP wife Kate, both 38, dined with friends at a tapas restaurant 100 metres away.

READ THE REST HERE

Portuguese police in Britain for Madeleine hunt.