Police reinterview witnesses over Madeleine's disappearance.
Fred Attewill and agencies
Wednesday May 23, 2007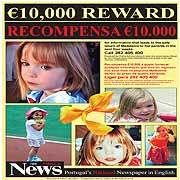 MADELEINE MCCANN

Police in Portugal today reinterviewed two witnesses over the disappearance of four-year-old Madeleine McCann, as the girl's parents prayed for her safe return.

The witnesses are believed to be Michaela Walczuch, the German lover of the sole suspect Robert Murat, and her estranged Portuguese husband, Luis Antonio. A senior police source described the questioning as "normal and routine".

Madeleine's parents made a pilgrimage to Portugal's holiest shrine to pray for their daughter's safe return.

READ THE REST HERE

WE'LL SCOUR EUROPE UNTIL ALL FIVE OF US CAN GO HOME AS A FAMILY.