If you know of a missing person and want to get the word out - PLEASE CONTACT ME!

I received a comment in the MOTHER AND DAUGHTER MISSING IN SAND MOUNTAIN POST this morning and decided to let you all know that even though our NETWORK Vast, Strong and Growing. We do not know of all the cases out there.

The GOAL is to get the info out - FAST! If we do not have the info, we can not get IT out. By reaching our intended audience we can make a difference. Some cases receive little to no attention and WE can change that with a few key-strokes.

Travel back with me, if you will, to February 1ST 2007. This day started out like many others. Then the unimaginable happened.

Kaitlin Aydell got off her school bus in the French Settlement area of Louisiana near Coyell Bayou.

And then she was abducted.



KAITLIN AYDELL

At approximately 4:30 to 5 PM a Poster from SCARED MONKEYS (screen name - Cubbeegirl) asked the members if we could help. WE NEVER EVER SAY NO! This is Cubbeegirl's backyard and makes my point that all crime is LOCAL!

By 8 PM that night we had Mark Lewis identified. WE had his location, his residence and his criminal record. Had the Police not ID'd him at relatively the same time, we would have. Either way, he was caught and another child prevented from harm.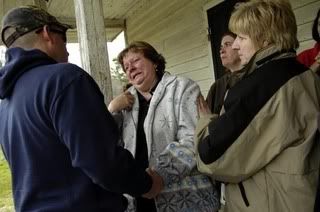 MS. AYDELL IS COMFORTED BY RELATIVES AND FRIENDS



POI MARK LEWIS' LOCALE



MARK LEWIS - POI

We can help if we have a starting point.