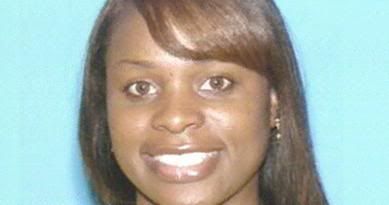 LINDA RENEE INNOCENT - MISSING SINCE 7-15-2007 IN SUNRISE FLORIDA

POLICE SEARCH FOR MISSING MOM
Saturday, July 21, 2007
SUNRISE, Fla. (WSVN)Police and family members are searching for a 34-year-old mother who has been missing since Sunday July 15th.

According to authorities, hospice care worker Linda Renee Innocent vanished Sunday after she left work from an unincorporated Fort Lauderdale neighborhood near State Road 441 and Davie Boulevard.

According to family a member, Innocent was on her way home Sunday night to meet her fiancé for a date. "She called him at about 8:15 p.m., asking him to make sure he's ready, so they could go out to their reservation at a restaurant," said innocent's sister Juny Bernadin.

"I was just like, 'OK, I'm just going to get ready, and I will wait for you when you get here.' I didn't think anything of it," said Innocent's fiancé Derek Francis.

That Sunday, before Innocent vanished, a relative of Innocent's patient who asked not be identified, recalled the missing woman's mood that day. "Everything was nice. She was a very good worker. I know Linda was having some problems on the telephone. A lot of times she'd come out on the porch, and she would start crying," he said. However, he added, by the end of the day her mood had improved.

Innocent left work in her black 2005 four-door Audi, which authorities are still trying to locate.

When Innocent never arrived home, her fiancé, family and friends called her cell phone all night but only reached her voicemail. "That's when we said, 'This is not in her character. This is out of character,' so we thought something was wrong," said Francis.

According to Bernadin, Innocent and Francis were in the process of moving in together to start a fresh life with her four children. "If you find her, please bring her back because I want to see her so much," said one of her daughters, as her voice cracked when she tried to hold back tears.

"All I want to say is whoever has my mom I want them to give her back," said her 10-year-old son Desmond Howard, as he put his hands over his head and broke down in tears.

Police say her last few phone calls Sunday night were made to a former boyfriend who she has a restraining order against. However, authorities say there is no evidence of any crime. They are just looking for any information that will bring her home safely.

The tag on Innocent's car reads X61-9JM. If you have any information on this missing persons case please call 954-321-4240.




VERNON HOWARD COURT DISPOSITION 5-29-2007

**VERNON HOWARD DISPOSITION COURTESY OF GRANDE**