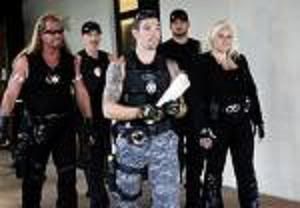 DOG AND CREW

It's hard to image Duane 'Dog' Chapman, son Leland Chapman and associate Timothy Chapman as VICTIMS, after-all they take out the trash, or in reality, they bring it IN.

'Dog' has that 80's BIG HAIR and a larger than life persona. Leland has that 'I'll use Mixed Martial Arts on your ass if you cross me' look. And last but not least - Tim, he has that 'I might be packing a 357' look. It is truly hard to image them as the 'VICTIMS' here, but they are certainly the intended targets.

Everyone knows that 'Dog' and his crew traveled to Mexico to do the job the Federales could not.

Updated: 4:52 p.m. ET Sept 21, 2006
HONOLULU - TV reality star Duane "Dog" Chapman and two co-stars on his show were arrested Thursday in Hawaii on charges of illegal detention and conspiracy in the bounty hunters' capture three years ago of a cosmetics company heir.

SOURCE HERE

They brought IN a horrible disgrace of a human being. One Andrew Luster, heir to the Max Factor Cosmetics Company. This animal thought is was OK to drug and rape women, and then when charged, he split. He ran for the border like a roach from light and was enjoying himself until June 18, 2003 when he was captured in Puerto Vallarta, Mexico.

Dog and Crew do Mexico a HUGE favor and are facing years in the lap of luxury in the Mexican Penal System. You know the ole saying - 'No Good Deed Goes Unpunished'.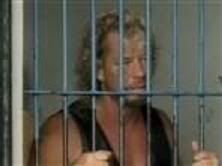 THIS IS F' ED UP - BIGTIME!!!!!

Now I have no idea who the US Federal Government cut a deal with to have a Drug Lord Extradited to the US in exchange for selling out 'Dog', but I don't care who it is. There is no one worth throwing 'Dog' to the Wolves.

Years for ridding the streets of Bail Jumpers and this is how a hero is REWARDED?

No wonder we are seeing a decline in society of others wanting to get involved and 'DO THE RIGHT THING'.

A can of mace, hand cuffs and persuasion were all Dog and his Crew carried and used negotiation to bring in some of the worst offenders around. The BAIL JUMPERS usually just surrendered and no one else was hurt. It takes a SPECIAL PERSON to deal with this line of work and not get killed.

No matter who allowed this to happen, their head should roll. There is no excuse for what is happening here.

DOG'S OFFICIAL WEBSITE HERE