Common links in the case of Natalee Holloway.

You all remember MAX DEVRIES right? He is the little boy that vanished on Aruba on 5/12/2004. Roughly one year before Natalee.

You all remember this Dirty Cop?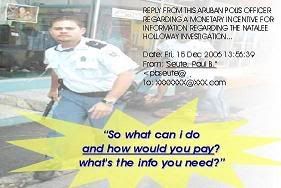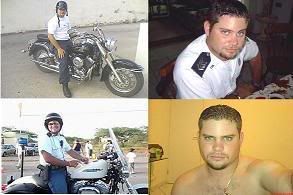 PAUL B. SEUTE

Paul B. Seute is also involved in the case of Max.

Who else is involved in both cases?

Police Assistant Inspector Jules Sambo. (No Picture Available.)

"We don't have any indication as to if she is alive," Sambo said. "The whole population is aware that she is missing. The police are doing everything to find her."

Other's involved in Max's case.

Adolf Cruz from Search and Rescue - 297 - 962 - 1380

V.D. Stuater. (Appears to be a cop, phone number - 297 - 587 - 0009 Polis Station.)

Debra Bolten - U.S. Council.

Mr. Vera - Hotel Security.

Beach Patrol - 297 - 586 - 3003

It has been almost 3 years since Max became a CRIME VICTIM on Aruba. He was first a VICTIM of his assailant then a VICTIM of the Aruban Law Enforcement.

To date, Yvonne DeVries has not received the final paper work detailing the final conclusion the Aruban Authorities have reached in his case. Ms. DeVries has also not received any correspondence from any US entity.

That does not bode well for those of us waiting for the two year statue to expire in Natalee's case and the remaining documents to be released.

According to Ms. DeVries, there was never any investigation.

Photos of Paul B. Seute courtesy of Grande.