JESSICA LUNSFORD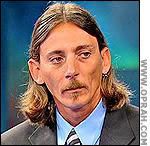 MARK LUNSFORD - Jessica's Father.

Mar 8, 9:06 AM EST

Sex Offender Guilty in Fla. Girl's Death

By CURT ANDERSON
Associated Press Writer

MIAMI (AP) -- The sex offender convicted of kidnapping, raping and then killing 9-year-old Jessica Lunsford by burying her alive behind his trailer could now face the death penalty.

The Good News is that John Evander Couey IS GUILTY, and will never ever hurt a child again. The BAD NEWS - he was given 24, yes 24 chances to get his life in order, and he never did. Jessica paid the price.

There was no reason that this animal should not have been in jail. The recidivism rate for child molesters is 80%. When will the laws be changed to protect our children?

And why weren't Gene Secord, 35, Madie Dixon Secord, 27; Dorothy Marie Dixon, 47; and Matthew Dittrich, 31, also charged with Jessica's Murder as accessories?

OH Wait - someone got it RIGHT.

House Approves Death Penalty For Repeat Child Molesters

(March 5, 2007)--Hardcore child molesters could face the death penalty in Texas under a bill given preliminary approval Monday by the state House of Representatives.

The bill is designed to crack down on sex offenders who repeatedly prey on children.

The House voted to create a new category of crime, continual sexual abuse of a young child or children.

It carries a minimum of 25 years to life in prison and possibly the death penalty for a second offense.

The bill represented a compromise after the House delayed voting on a broader death penalty provision because of constitutional concerns.

There were also worries it might lead some molesters to kill their victim

We can NOT allow threats of more murdered CHILDREN to delay this bill. This bill needs to go NATIONWIDE.

God Bless Mark Lunsford and Angie Bryant.

REST IN PEACE JESSICA.